Home
>
Adults
,
Games & More
,
Games Night
,
Gifts for Teens
,
Shop All Products
,
Staff Favourites
,
Stocking Fillers
,
Teens
,
Toys for 10 Year Olds
,
Toys for 11 Year Olds
,
Toys for 7 Year Olds
,
Toys for 8 Year Olds
,
Toys for 9 Year Olds
,
Travel Games
,
>
Uno Card Game
Regular price
Sale price
£9.00
Unit price
per
Sale
Sold out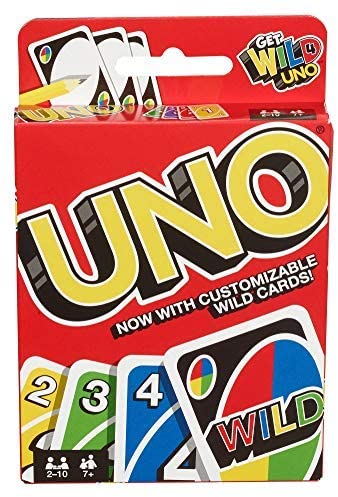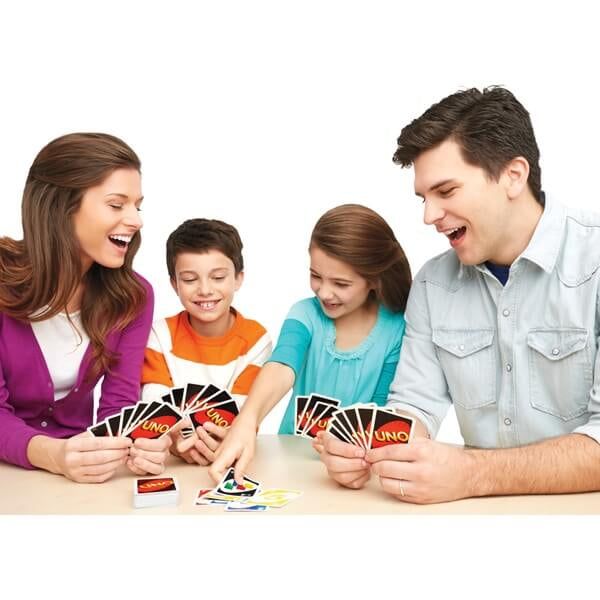 Relatives visiting? Hosting a party? Stuck in an airport? Then it's time for Uno, the classic card game, which is quick to learn, easy to play and fun for all the family. The aim of the game is to be the first player to score 500 points, by getting rid of all the cards in your hand before your opponents. You score points for all the cards left in your opponents' hands. The rules of Uno are simple. Every player picks a card and the person who draws the highest number deals (Action Cards count as zero at this stage). Once the pack has been shuffled, each player is dealt 7 cards. The remainder of the deck is placed face down to form a DRAW pile. And the top card of the DRAW pile is turned over to start a DISCARD pile. The person to the left of the dealer starts play and has to match the card on the DISCARD pile, either by number or colour. So, if the card is a red 7, the player must put down a red card or any 7 card regardless of its colour. Alternatively, the player can put down a Wild Card. If the player doesn't have a card to match the one on the DISCARD pile, they must take a card from the DRAW pile. If this can be played, the player is free to put it down in the same turn. Otherwise, play moves on to the next person. Players may choose not to play a playable card from their hand. If so, they must draw a card from the DRAW pile. If playable, that card can be put down in the same turn, but the player may not use a card from the hand after the draw. Players race to get rid of their cards and the real fun starts when special Action Cards are used to foil opponents and gain an advantage. With the tension mounting, Uno becomes the fun family card game that's easy to pick up but impossible to put down.
Box Contains
108 x Uno cards
1 x Instruction guide
Age 7+
Choosing a selection results in a full page refresh.
Opens in a new window.