Regular price
Sale price
€32.95
Unit price
per
Sale
Sold out
CCVC and CVCC Bingo

CCVC and CVCC Bingo is a fantastically fun, reading and spelling game where kids match and blend letter sounds to form words.

Recognise and practice letter/sound position within CCVC and CVCC words, to aid reading and spelling. Each board shows two words tha... View full details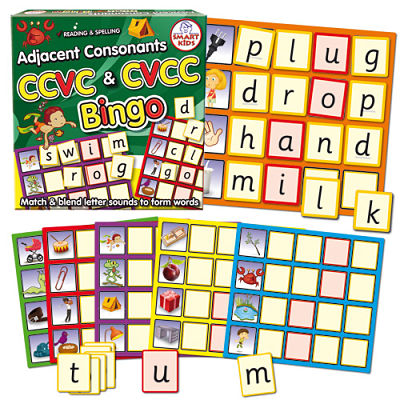 CCVC and CVCC Bingo

CCVC and CVCC Bingo is a fantastically fun, reading and spelling game where kids match and blend letter sounds to form words.

Recognise and practice letter/sound position within CCVC and CVCC words, to aid reading and spelling. Each board shows two words that start with adjacent consonants and two that end with adjacent consonants. Words are represented by a picture giving the opportunity to blend and segment Beginning, Medial and Final letter sounds. The letter cards use simple colour-coding to highlight the position and relationship of consonants and vowels within three letter words.

The game can be played individually or play in a group and be the first to blend and match the correct letters to form words and win the game!

Contains 6 boards and 96 letter cards.