Regular price
Sale price
€32.95
Unit price
per
Sale
Sold out
CVC Bingo

CVC Bingo is a fantastically fun, reading and spelling game where kids match and blend letter sounds to form words.

Recognise and practice letter/sound position within CVC words, to aid reading and spelling. Each board shows three CVC words represented by a picture th... View full details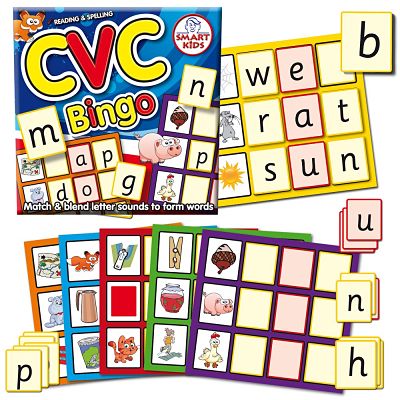 CVC Bingo

CVC Bingo is a fantastically fun, reading and spelling game where kids match and blend letter sounds to form words.

Recognise and practice letter/sound position within CVC words, to aid reading and spelling. Each board shows three CVC words represented by a picture that gives the opportunity to blend and segment Beginning, Medial and Final letter sounds. The letter cards use simple colour-coding to highlight the position and relationship of consonants and vowels within three letter words.

The game can be played individually or play in a group and be the first to blend and match the correct letters to form CVC words and win the game!

Contains 6 boards and 54 letter cards.